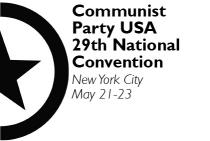 Honorable Dear Comrade Sam Webb,
Chairperson, The Communist Party of USA
It is a source of greet pleasure for the Communist Party of Pakistan to extend our sincere comradely congratulations to you on holding the 29th convention of the CPUSA at New York from 21st to 23rd of May, 2010.
We hope, that at this convention you will definitely discuss and analyze in depth the international scenario, regarding the current global capital crises, poverty, terrorism, sky rocketing inflationary, unemployment and devastations at the nuke of imperialist wars.
Your understanding of world's political situation will help Communist & Workers Parties world over, to adopt suitable line for countering the capitalist savagery and imperialist designs.
We attach a lot of optimism to say that ,this convention of CPUSA, will certainly play a very significant role for denouncing, the USA war mongering policy of war in the name of so called war against terrorism.
We congratulate again, the CPUSA on holding its this historical convention and wish you every success in it.
With comradely greetings and best wishes,
Maula Bux Khaskheli
Secretary General
Communist Party of Pakistan
Comments