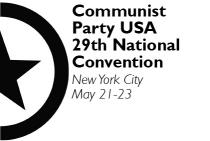 Dear Comrades,
The French Communist Party would like to extend you its solidary greetings on the occasion of the 29th Convention of your Party held in New York City on the coming days.
Indeed an important delegation of our Party was in New York City at the beginning of this month to participate in the International activities surrounding the NPT Conference at the United Nations. We were very happy to meet with US activists, and comrades, and to share our concerns and hopes.
We are fighting on the same grounds, against the massive speculation that provoked the crisis, against poverty, against racism and against the wars especially in Afghanistan. We all struggle for social equity and a peaceful international environement.
In the framework of the worst situation that capitalism has ever known, in this context of a systemic and structural crisis, as Progressives from the USA and Europe and all over the world, we need to unite our forces and find alternatives solutions.
We wish you the best success for your Convention on behalf of all the French Communists.
Fraternally,
Jacques Fath
Head of the International Relations of the PCF
French Communist Party
Comments