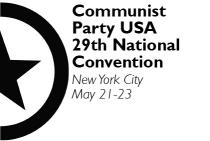 On behalf of the Communists of Georgia, the Central Committee of the United Communist Party of Georgia welcomes participants to the 29th Congress KP USA.
Your Congress takes place in the most difficult period for workers of America, for the whole world. Standing before you is the arduous task of leading the struggle of American workers for justice, the struggle against the ambitions of the ruling classes of USA to dictate its conditions to the rest of the world.
We express our confidence that your forum will be another step toward strengthening positions CPUSA in society and in the political arena.
We wish you success!
With comradely greetings,
Central Committee
United Communist Party of Georgia
Comments