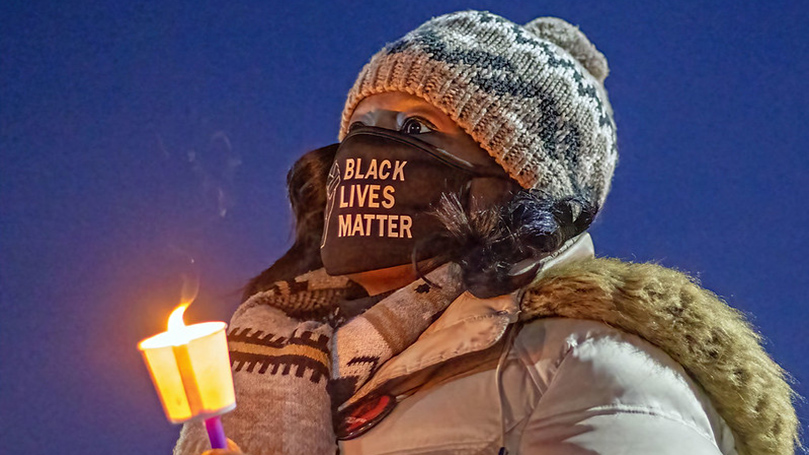 All eyes are on the city of Columbus, Ohio, after the December murders of two unarmed, law-abiding Black men by area police in less than three weeks. These two incidents are merely the tip of the iceberg. The systematic violence against people of color in this city has a long history. According to Mapping Police Violence, in relation to police killing of people of color, Columbus ranks among the worst: twenty-second among the nation's largest 100 cities.
Just days before Christmas, responding to a non-emergency report of someone starting and stopping a parked car, Columbus Police Officer Adam Coy saw Andre Hill, a forty-seven-year-old grandfather, emerge from a garage with a cellphone in his hand. In seconds, Coy shot Andre Hill. Coy and his fellow officers did not even attempt to provide first aid for a full thirteen minutes after the shooting. Instead, Coy handcuffed Hill as he lay dying on the ground. By then, Coy had turned on his bodycam, and an officer can be heard saying, "Let's cuff him up. He's still moving." An unnamed woman in the residence can be heard on the bodycam video saying that Hill was doing nothing wrong; he was there dropping Christmas money off for her. While Adam Coy has been fired, no charges against him have yet been filed.
Hill's murder came as Columbus was reeling from the shocking killing of Casey Goodson Jr. The 23-year-old African American was entering his home with only his key and Subway sandwiches in his hands, was shot in the back by Franklin County (Columbus area) Sheriff's Deputy Jason Meade. Meade, who was in the neighborhood on an unrelated call, said Goodson had waved a gun at him as he drove by. Goodson's body was found by his 5-year-old brother and 72-year-old grandmother, for whom he was purchasing sandwiches.
Sheriff's Deputy Jason Meade has spoken about his justification of violence in the past. He has a red-flag-filled personnel record and has renewed concerns about the kind of people who are recruited into local law enforcement. Meade is a pastor at a small town Ohio church, where he spewed these hateful words, from a recording of a sermon he gave there:
I work for the sheriff's office . . .  I hunt people — it's a great job, I love it. . . . I worked this job 14 years, you know I ain't never been hit clean in the face one time? It's a fact. It ain't 'cause I'm so good. . . . You know why? I learned long ago I gotta throw the first punch. And I learned long ago why I'm justified in throwing the first punch. Don't look up here like, "Oh, police brutality." People I hit you wish you could hit, trust me.
In the aftermath of the murder of George Floyd, Columbus saw a number of protests that were violently repressed by Columbus police. After days of protest, the city agreed to seat a civilian review board. How much can this really help? Only time will tell. The Anna Hass Morgan (Columbus) Club condemns the racist, violent actions of the Columbus Division of Police and the Franklin County Sheriff's Office. We will continue to stand in solidarity with all of our community members. Those perpetuating this violence must be held responsible.
Image:  Vigil for Andre Hill, Becker1999 (CC BY 2.0).

Comments