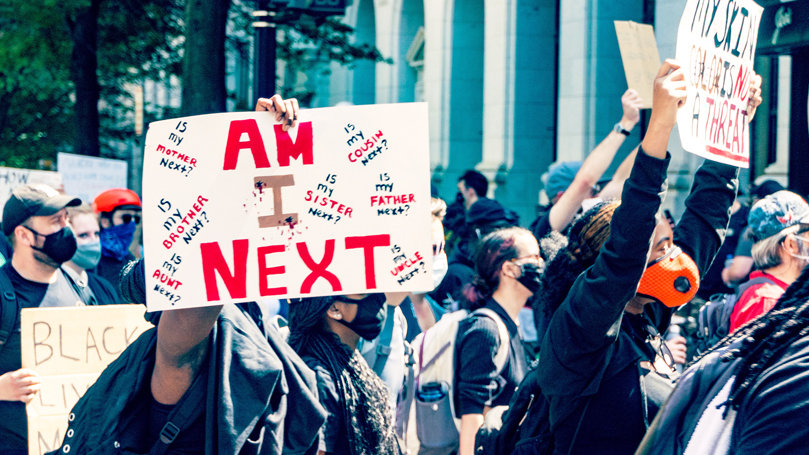 Three African American people were brutally killed recently by a racist 21-year-old white youth in a Jacksonville, Fla. Dollar General store.
The three people killed were all African American workers. A.J. Laguerre worked at a Dollar General store after finishing high school to help support the grandmother who raised him. Angela Michelle Carr was an Uber driver beloved by her children. Jerrald De'Shaun Gallion relished weekends with his 4-year-old daughter.
They were slain when a gunman armed with a Glock and an "AR-15 style" rifle with swastikas painted on it opened fire at the Dollar General where Laguerre worked in Jacksonville. The gunman, who killed himself, left multiple racist and threatening manifestos behind. The CPUSA offers condolences to the families of the victims, and demands justice for them: Angela Michelle Carr, Anolt Joseph Laguerre Jr and Jerrald Gallion.
The Communist Party USA (CPUSA) joins with the National Alliance Against Racist and Political Repression (NAARPR) and other people's organizations in condemning these racist murders, which occurred in the predominantly Black New Town area of Jacksonville, Fla.
The Jacksonville hate crime murders took place at the same time tens of thousands were gathered in Washington D.C. to remember the 1963 March on Washington at which Rev. Martin Luther King Jr. gave his famous "I Have a Dream" speech. The marchers were there to rededicate themselves to continuing the struggle for jobs, civil rights, peace, and democracy, which King led until his April 4, 1968 murder.
The Carr, Laguerre, and Gallion murders came one day before the 63rd anniversary of the Ax Handle Saturday killings in Jacksonville on August 27, 1960. That Saturday, a group of approximately 200 white men, some of whom were Ku Klux Klan members, gathered in Hemming Park armed with baseball bats and ax handles. They attacked protesters conducting sit-ins. The violence spread, and the white terrorists started attacking all Black people in sight. Police did not intervene on behalf of those being attacked, instead arresting people who attempted to defend themselves. One white man who told a judge that he was a proud member of the NAACP was sentenced to 90 days in prison.
The 2023 Jacksonville killings occurred during the term of Florida governor Desantis, who has been encouraging racist violence with his "anti-woke" presidential campaign. Desantis is the inhumane racist who peddles lies like "slavery was a good job training program for African Americans."
The political context of the 2023 Jacksonville murders has to be taken into account. The killer left behind multiple racist and hate-filled manifestos targeting Black people. Further, the consistency of these events, whether in Jacksonville, Fla. or nationally in the U.S.A., points to the systemic roots of these racist attacks.
According to Eric Brooks, co-convener of the CPUSA African American Equality Commission, "We demand an end to all racist violence, to the militarization of our schools, and to the arming of our youth, especially with weapons of mass murder that should not be available for purchase. We demand an end to choosing gun manufacturer profits over Black, Brown, Asian, Arab, Jewish, LGBTQ, indigenous, and working people's lives, and the lives of their children. We work for an economy and culture built on respect for working people, one in which they have a powerful voice.
"We join with the NAARPR and local organizations to support 'local demands for an end to white supremacy, along with calls for the creation of a [democratic] Public Safety Committee as a means of civilian oversight, along with uniting with demands of taking down all remaining confederate monuments in the city. Local demands also include the demands for economic empowerment in the black community, along with improvements in neighborhood infrastructure.' "
The August 26, 2023 March on Washington organizers, along with others in the Poor People's Campaign and elsewhere, are strengthening existing coalitions and creating new ones, all building around the fundamental vision of an anti-racist, democratic U.S. that meets the needs of working people, and in which there is no tolerance for racist violence by individuals or the police. These coalitions can only thrive in a democracy, and include organized labor and oppressed people, including women, people of color, LGBTQ people, and others. The ultra-right and its operatives like Desantis are doing everything possible to undermine the unity of these coalitions, with racist and anti-labor rhetoric and actions.
"People's movements today," Brooks said, "are urged to keep an eye on what is at stake in the 2024 national elections, and in local and state elections. We must unite and fight to ensure that these established and emerging movements are not derailed by ultra-right victories in the 2024 elections. We must fight to protect and expand the victories of the civil rights movements of the 1930s onwards."
Building a large, anti-racist democratic people's movement is needed today. Those murdered at the hands of racists — and the lives of those who carry on the struggle for freedom — can be honored by standing up for justice for Carr, Laguerre Jr., and Gallion, and by dedicating oneself to getting out the vote in 2024 to send home all those who foment and encourage this violence from state capitals, or from the White House, like Trump did.
Image: Am I Next by Penn Today (CC BY SA 4.0)
Comments